Custom made Rustic Garden Gazebo made to measure.
Rustic Octagonal Gazebo and Custom made Swing Chair.


During the pandemic and while our country was experiencing lock down we used our time to make some stunning custom garden furniture all from timber we had stock piled in the yard.
For this project we use pine logs, some milled pine , spalted beech and some pine live edge boards to make the bar's, wooden shingles and additional bench. It took a real team effort to get this project completed, a lot of hours have went into these projects but we have really enjoyed the fruits of our labor during the unseasonably good weather we have had in Ireland over the last few months.
The Rustic Wood Design Octagonal Gazebo
A wooden gazebo had been a project we had been hoping to complete for a very long time. We already had the granite table and bench installed in the garden we decided a rustic natural octagon shaped gazebo would be perfect to complement the colour of our table.
To start this project we laid out the support joists to identify where we need position the upright support logs. We choose long straight logs about 12 feet in length and of similar girth and dug holes roughly 18-24 inches deep to set the logs in a permanent position. Next up we placed the wall plate, roof joists, and rafters making sure these were all laid out correctly and square. To top it off Mick turned a few plant holder on the lathe later that evening.
Day two we worked on the bar installation,3 in total again we used some pine from the stock pile, we cut logs and shaped them with chisels for a tight flush finish between the post. Plenty of sanding to give a smooth splinter free finish. We hate to waste good timber so we made a bench out of some cut off we had left over from the support logs which is braced against one of the bars. Not a bad days work.
Then came the painstaking slow days of shingle making. It was suggested we make these by hand using a froe but we decided on the quicker option of running them through the saw. And are we glad we did it took 4 days into total to make each of the shingles a slow and steady pace finally saw the gazebo near completion. Laths were cut to size and the roofing commenced each shingle was nailed into place. We used a burning technique to weather proof the shingles along with multiple coats of oil.
We were so glad to complete this job as a family and have spent many a summer night enjoying a BBQ or a few beverages.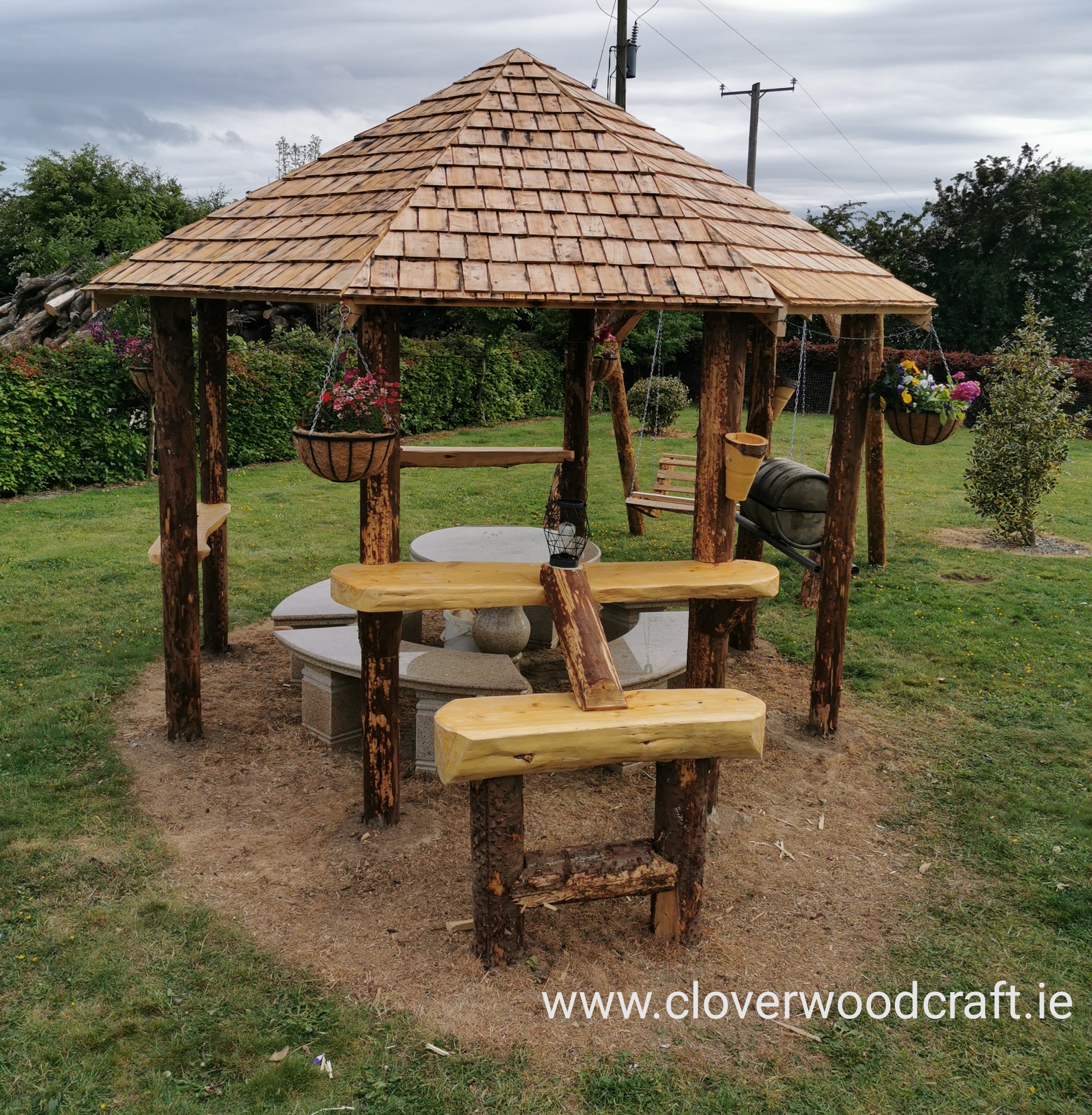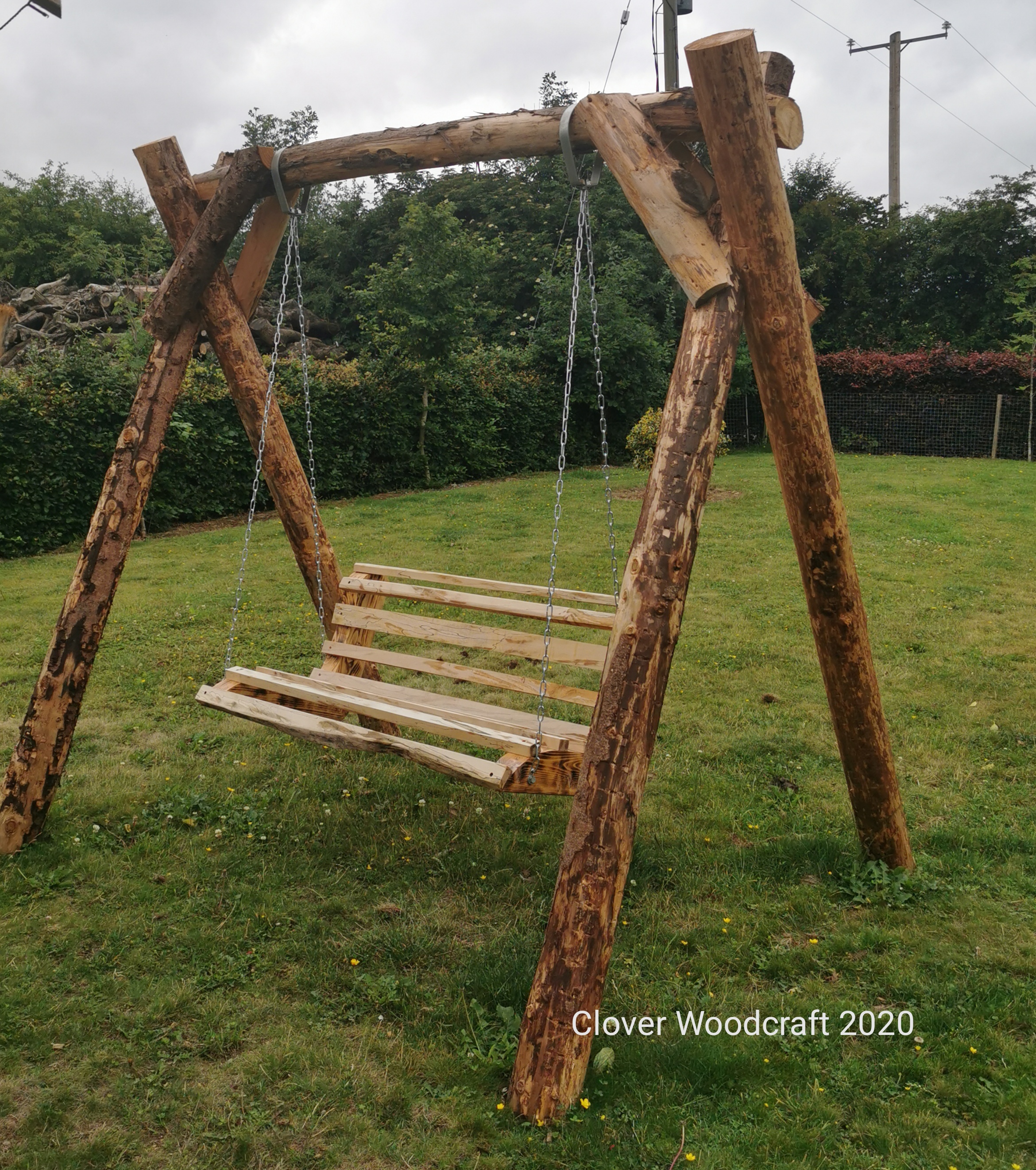 Rustic style Swing Chair.
The gazebo hadn't been finished a wet week when a suggestion was made to make a match swing chair. So off we went again unpacking the tools we needed for this project, and searching our supplies for some straight logs.
We decide on the classic A frame design, scribing the logs at the interlocking section flush together, this increased the strengthen of the project. A slightly curved cross bar was fitted snuggly to the frames with some bracing added for additional strength.
The seat frame was made of solid timber which we had in the workshop cut into an L pattern, we finished the seat with some spalted beech rounding the edges for comfort. We used a heavy gauge link chain and some metal pipe straps to attach the seat to the frame. This provides the smooth swing motion and is also handy if you wish to remove the seat and store it during bad winter weather.